Trekking in the Middle Hills of Nepal
A special fund-raising tour for the Forgotten Sherpas of Nepal Trust
21 days in Nepal, departing NZ, Sep 22 (approx) 2019
Trek in a remote region of Nepal, far from the main tourist trails; meet the locals; visit family homes; schools; monasteries; enjoy cultural performances; stunning views of the high Himalayas (including Everest, weather- permitting) and at the same time contribute to a long-running and successful joint NZ-Nepal development project.
This tour is being run in conjunction with the Forgotten Sherpas of Nepal Trust, established by members of the Geraldine Tramping Club in 2010. Projects include installation of solar lighting, safe water schemes, school support and health services to about 2500 villagers.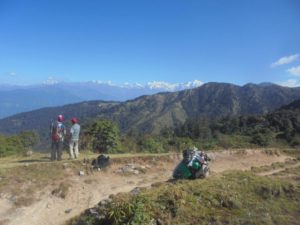 This tour, organised by Jill Worrall Tours especially for the Trust, will feature a 17-day trek at altitudes mostly between 2000-3000 metres and four nights in Kathmandu. The trek will include a multi-night stay in the Damar region enabling trekkers to meet villagers and see Trust work in action.
The tour price will include a contribution to Trust projects with Jill Worrall Tours also contributing to the work. Jill's son, Jonathan Meadowcroft, a highly experienced outdoor guide and a full-time paramedic based in Wellington, will be tour manager.
The tour price will be available soon but as places on this trek will be limited please contact Jill Worrall now to go on the priority mailing list.
Contact Jill: at +64 (0)3 684 9231
jill.worrall@xtra.co.nz
Download PDF Information Nepal 2019 Trek